Incorporated in 1971 by owners Pete and Blanche Wallace, Pete Wallace Rigging has earned a reputation as one of the Southeast's leading rigging and machinery moving companies.  Pete Wallace Rigging has successfully completed tens of thousands of projects for a wide range of industries, including machine tooling, plastics, textiles, injection molding, paper conversion, steel fabrication, food, beverage, wine, chemical, wood working, telecommunications, airline, and medical, to mention a few.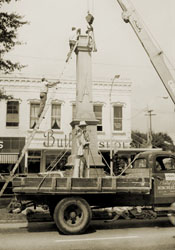 Educated in the industry by his father, Grady Wallace, founder of Southeastern Transfer & Storage, Pete began moving everything from construction equipment to all types of machinery at the age of fourteen. 

By the time Pete decided to leave Southeastern Transfer & Storage and start his own business, his experience and expertise was greatly valued by everyone in the industry.  Pete Wallace Rigging & Machinery Moving began with a loyal customer base, many of whom we still service today.  During the course of his career, Mr. Wallace has mentored many employees, training them in the importance of customer-service, as well as teaching them to be skilled, reliable, and safe craftsmen.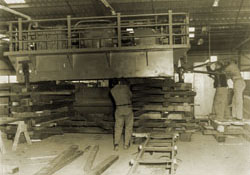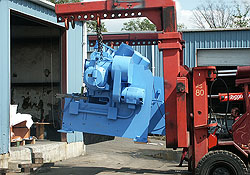 After his father's death in 1951, Pete continued running the machinery moving division of Southeastern for the next twenty years.  Before forklifts became the norm in the mid-1950's, Mr. Wallace used only hand winches, skids, and pipe rollers to relocate heavy equipment.

Over the last forty years, Pete Wallace Rigging has grown to meet the needs of an ever changing market.  Winches and pipe rollers have been replaced by forklifts ranging from 5,000 to 80,000 pound capacities.  We have a complete fleet of rolling equipment including flatbed, step-deck and low-boy trailers plus roll back trucks.  We have all the necessary jacking systems, chain falls, come-alongs, rollers, and dollies to efficiently handle all types of machinery and equipment for normal as well as unusual situations.  We can bring any type of crane or gantry system on location for special machine installation projects.

Today, Pete Wallace Rigging & Machinery Moving is the place to go for all your industrial service needs.  We offer complete turnkey services ranging from dismantling your industrial equipment to its final installation, including concrete and foundation work, electrical, piping, precision leveling, welding, and fabrication.
3234 Marjan Drive

Atlanta, Georgia 30340

(770) 451-7924 Phone

(770) 458-3801 Fax

Hours of Operation:

We're Open When You're Open